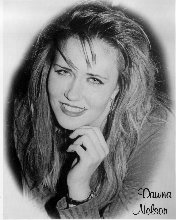 dawna
I started hanging out with Dawna the summer that I was living with Keith Harden. She came over and recorded "The Night I Cried Onstage" in Keith's basement with her sister Deana, and it was immediately pretty cool sounding. It won the C.V. Lloyde songwriting contest that year which is not traditionally a very country sorta contest. I needed a follow up "hit" and shortly after moving into the little house on Cypress I wrote "Cowboys Always Ride Away." I woke up from a nap and lyrics just decided to arrive. One of my better tunes I think.
The Night I Cried Onstage
(lyrics)
I remember writing this one evening up in Keith's extra bedroom. Recorded it on his Fostex in his basement a few nights later. There's one flub in the acoustic track that just seems to go by. Some Fine Line-esque country double leads. Kinda cool production I think. I like the third verse with the clapping and stuff.
Cowboys Always Ride Away
(lyrics)
Gosh, the lyric almost makes sense. Fun Tele riff. Leon singing "yippie kay ay". It's got it all.
Sometimes You Have To Leave
(lyrics)
I'd had this lyric floating around for ages. Recorded it kinda simple and acoustic with just Josh Quirk on snare. Dawna and some really drunk friends came over one night and recorded the bridge. I later re-recorded this with Trick Mode and did it slightly more electric.
Lucky Night
(lyrics)
My supposed country dance number. I had a whole video idea in mind for this but somehow never quite got it all realized. I think I was figuring out how to play country guitar pretty OK tho.
Why Can't We Go On Like Before
(lyrics)
Maudlin love ballad with verse chords dating from about 7th grade. Came up the chorus during the Bradleys years. Nice tune altho as usual the lyrics are maybe a little heavy handed.
I Know What You're Thinking
(lyrics)
Second try at getting this one right. I'd recorded it with Rose but it was too MIDI. Here I went too far in the country/steel direction. It's secretly a really nice little catchy tune, but I really really needs a male voice for the 2nd vocal part.
One Man
(lyrics)
I'd also recorded this one with Rose but I now do a slightly more polished version of it with Dawna and Deana. Guitar intro by Keith.
I'm There
(lyrics)
Totally throwaway attempt at a hit tune. Dorky lyrics, ukelele part in the middle. Oh well.
Turn Yourself In
(lyrics)
This had some of my better blues Tele playing. It was probably close to the last thing that I recorded at Cypress before coming out to Washington.
Cold Blooded Love
(lyrics)
Nellie and I had Dawna fly out for a week to visit us. She arrived having been up all night with Mr. Andy of course. I had her record this while she was here. A little pitchy, but hey. About the onlything I love is the bridge and the line "I keep hoping I'm somebody special."