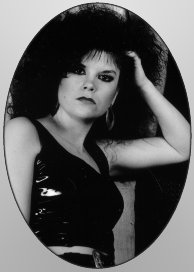 rose
Rose handled lead vocals in Stiletto but then I looked her up to do some follow-on recording work. The first four tunes are from some sessions we did at Private Studios with Jon Pines. Kinda MIDI sounding, huh? Then we returned to my basement to rehearse some more organic band-oriented tunes. We did some rough takes of them in the basement but never quite got back over to Private Studios to do 'em up right.
I Know What You're Thinking
(lyrics)
I wrote this up at Gina's family's cabin in Winconsin. Super pretty little tune, but I managed to record it with an inept lumbering MIDI groove. Oh well. Later reshot it with Dawna slightly countrified but never quite captured the essence. This has come off much better as a basic acoustic thing with girl/guy harmonies.
Let It Burn
Throw away tune, me trying to have fun. Kinda stupid really.
On Top
Another toss off, trying to be new wave or something, not quite sure.
Part of Me
(lyrics)
Pretentious lyric but an OK tune. The 2nd best of the Private Studio sessions. Nice guitar solo by Keith Harden.
More Bitter Now Than Ever
(lyrics)
This was a reworking of a tune I wrote when I was probably 20 out in the trailer. Cleaned up the form a bit, wrote a better lyric. Too bad Rose couldn't do the simple vocal ornamentation.
One Man
(lyrics)
Kinda cool anti-guy song. I never really figured out what it was about. Again it rehashes a lyric from my 20s (the car door slams thing) but with a nice simple, catchy song format.
Perfect Pair
(lyrics)
Keith Harden and Rose sang this. She came over to Keith's the summer I was staying there and we did this in his basement. Nothing too polished, just a good question/answer guy/girl bit.
When You Fall
(lyrics)
Harmonically a little bit bumpy but I always liked this tune, metaphorically speaking.
First Move
(lyrics)
Me playing Tele, Vic on bass. Almost a decent song.
Fragile
(lyrics)
Leon played guitar on this one. Unfinished.